It's probably no great surprise to hear that, at Heartcore, we're passionate about Pilates. So, when people ask, 'what is Pilates good for?' and 'why is Pilates good for you?' — our answer is normally, "what isn't Pilates good for!?". Here we've answered a few of the questions we get asked the most about the benefits of Pilates. And, if you want to hear more, our teachers are always on hand to share their knowledge.
Is Pilates good for toning?
Oh yes! You can ask anyone who has ever taken a Heartcore Pilates Class, and they'll tell you; Pilates is a full-body, deep-muscle workout. When Joseph Pilates was developing the Pilates method back in the 1920s, his goal was to create a form of physical exercise that built long-lasting strength in a safe way. The beauty of Pilates is that, unlike traditional weight training, every muscle is working throughout the entire workout. This means you develop muscles evenly for balanced strength and tone.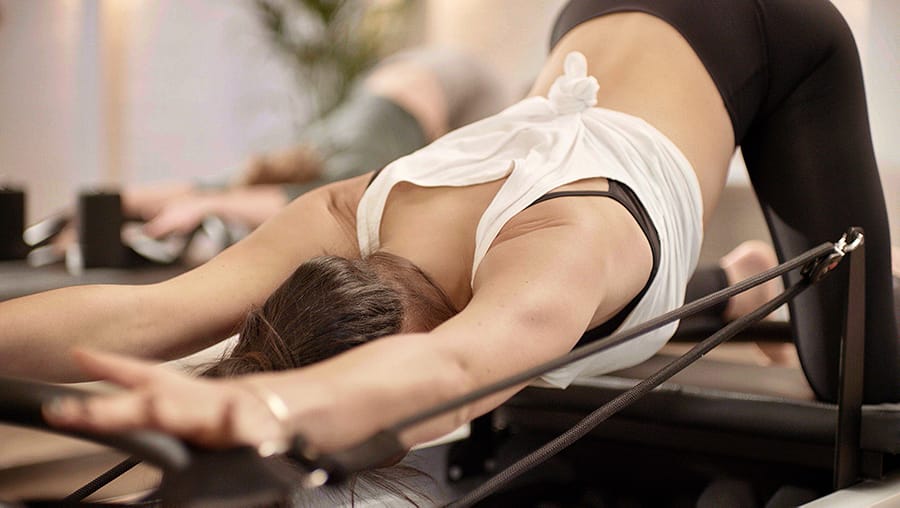 Is Pilates good for weight loss?
We're always careful about answering questions like this but, in short, yes. Pilates, especially our Heartcore Dynamic Pilates class, will get you moving, sweating, pushing past your physical limits, and ultimately burning fat. But, through repeated strength training and conditioning, you'll also build muscle. And muscle has weight.
Pilates will transform your body, but perhaps more importantly, it will help to transform your relationship with your body; allowing you to challenge your boundaries, appreciate your power and fall in love with yourself every single day.
Is reformer Pilates good for you?
We love a reformer class. In fact, at Heartcore, we love reformers so much we have our own bespoke Coreformer®. So, what is a Pilates reformer good for? Well, the reformer allows for a more dynamic, more targeted workout. Reformer Pilates allows you to not only put key muscles under spring tension, but to condition and stretch the body at the same time. The reformer is especially good at helping to elongate the spine, leading to greater flexibility and better posture.
What's great about the reformer, and especially our Coreformer®, is that you don't need to be an expert to get started, and it's an incredibly effective workout regardless of your ability. Our Coreformer® is adjustable to all body types and levels — so you can get a workout that's tailored to you, every time. If you haven't already tried it, we recommend our Beginner Pilates or Find Your Flow classes, or Personal Training as a great introduction to Reformer Pilates.
Is Pilates good for performance?
Absolutely. Pilates was designed as a form of strength rehabilitation. Pilates movements are designed to strengthen and protect key muscles and joints, making the body less prone to injury. As such, Pilates is perfect for people who love to run, cycle, lift weights or engage in contact sports.
Pilates will also improve your performance by building your stamina. Pilates isn't passive: we engage our muscles for extended periods of time and make fast transitions between movements. It's a tough workout.
Is Pilates good for my mental health?
Although Pilates was designed as a physical exercise, we've seen first-hand how it can really change people's state of mind. We've unpacked a few of the reasons why in a blog post, but here are a few key things Pilates can help with:
Focus: Pilates requires your mind's full attention. You need to fully inhabit your body and give attention to your breathing. This calms the mind and helps you block out any stresses you might be carrying.
Tension: Physical tension is often the result of mental and emotional stress. In Pilates, we stretch and relax the muscles to get stress-fighting endorphins flowing freely around the body again.
Anxiety: Pilates actually helps you build a stronger nervous system which, in turn, helps the body metabolise some of the negative hormones released by physical, emotional and mental stress.
Community: Heartcore is more than a workout. We're a community of beating hearts; we support one another, inspire one another, and we lift each other up. Join us in-studio or online to experience it for yourself.
If you are struggling with mental health, we always recommend speaking to a medical professional, but Pilates is a wonderful tool for recalibrating and realigning your mind. If you're looking for a more meditative Pilates workout, check out our Pilates Flow, Stretch or Release classes online.
Who should do Pilates?
We especially recommend Pilates to anyone whose body or mind is under particular stress. But really, Pilates is for everyone. Pilates isn't just for elite athletes or Instagram models. At Heartcore, we make sure that anyone, at any level, can unroll their mat or move on the Coreformer® with us and get a great workout. Pilates is a way to build a stronger mind-body connection, to redefine what you think you are capable of, and to achieve more than you ever thought possible. Modern life can be stressful, but Pilates can help us to accept and process the 'million things' that come our way every single day. It's a moment of deep mental exhalation. Who doesn't need that?